Tenerife Hikers Custom Maps for Garmins
Tenerife Hikers' Custom Maps for Garmins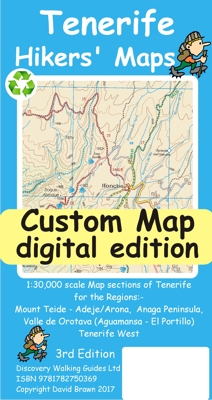 Tenerife Hikers' Custom Maps £5.99 is a zip file containing Custom Map files covering the regions of Tenerife Anaga, Teide/Canadas/Adeje,
ElPortillo/Valle de Orotava and Tenerife West.
Tenerife Hikers' Custom Maps is the digital edition of isbn 9781782750369 Tenerife Hikers' Super-Durable Maps (2017 edition) for use on Garmin gps units that have Custom Maps capability - Check that your Garmin gps has Custom Maps capability before purchasing.

After downloading the zip file and unzipping into its seperate kmz files and saving these on your hard drive the maps can be viewed and used in Garmin Basecamp and Google Earth, and can be loaded into the CustomMaps memory in your Garmin gps.


Read our Tour & Trail Custom Maps information sheet before purchase. See a 'Try before you Buy' Custom Map sample.

Tenerife Hikers Custom Maps can be used with all walking/hiking guide books for the island. Tenerife Hikers Custom Maps can be used in Google Earth and Garmin Basecamp for you to plot the detailed walking routes and save these as gps files which can then be loaded into your Garmin.
Tenerife Hikers Custom Maps is best used with Walk! Tenerife (2017 edition) whose routes are already shown, and numbered, on the Tenerife Hikers Custom Maps plus the
gpx waypoint files for all the Walk! Tenerife routes are available as a free zip file download from Discovery Walking Guides – see gpx downloads.
Purchase with PayPal.
After your PayPal is completed you will receive a dwgwalking.co.uk email with your download link, check in your Spam folder if it is not in your inbox.
Please click on the download link in your email to download your Custom Map soon after purchase as the encrypted link is time limited.

Receive this digital edition Custom Map as a free download.
If you have purchased the printed Tour & Trail Super-Durable Map then simply post a positive review on the website where you bought the map.
Email David at ask.discovery@ntlworld.com with details of your review
then David will email you the Custom map download link.
Need your Custom Map for non-Garmin gps units and phones?
John Thorn has produced a special version of MAPC2MAPC to process these Tour and Trail Custom Maps
so there is no further cost to using them in other Apps - See John's MAPC2MAPC software
to see more of Discovery Walking Guides use these links:- Custom Maps
Home Page Titles Abroad Madeira Mallorca Menorca Alpujarras Axarquia Costa Blanca Mountains Sierra de Aracena
Lanzarote Tenerife Gran Canaria La Palma La Gomera Fuerteventura DWG sitemap
Need your maps for non-Garmin gps units and phones? See John Thorn's Mapc2Mapc software