Gran Canaria Tour and Trail Map Compendium edition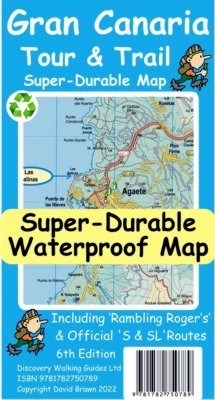 Gran Canaria Tour & Trail Map
Digital editions of Gran Canaria Tour and Trail Map are available as in-app purchase for Outdooractive and Locus Map app users
DWG offer digital editions in kmz (Garmin), sqlite.db (app users), Oziexplorer choice of formats for digital users
For the best adventures, use the best map. Gran Canaria Tour & Trail Super-Durable Map (50k scale) is a large 960mm by 700mm double sided map sheet which folds to its 235mm by 120mm pocket size. A special concertina map fold makes the map easy to unfold and refold in use. Super-Durable means water-proof and tear-proof, simply wipe clean with a damp cloth if your map gets dirty. This map has a "2 Year Guarantee" covering adventurous use. Gran Canaria North is on one side with South on the reverse side, while a generous common overlap minimises your map turning.
This 6th edition is the result of DWG partnering 'Rambling Roger', Isabelle and Dane, surveying Gran Canaria in detail to produce this map. 20 metre and 100 metre contours combined with altitude shading bring these impressive landscapes to life. All of the legendary Tour & Trail attention to detail is included so that you will find those petrol stations, mirador viewpoints with parking, refreshment stops with parking and accurate road numbering that are so essential when adventuring by hire car. 'Off-Tarmac' Gran Canaria Tour & Trail Map is in a league of its own thanks to all the hiking trails and dirt tracks surveyed by Roger, Isabelle and Dane. Rambling Roger's walking trails from his latest guides are highlighted in red making this map and Roger's guides perfect for your walking adventures. We have also checked the walking routes from `Landscapes of Gran Canaria' and `Rother Gran Canaria' so whichever guide book you use this is your first choice map for your adventures. While Gran Canaria Tour & Trail Super-Durable Map will give years of adventurous use all the materials used in its production are fully recycleable.
Quite simply, this is the toughest, most useable map of Gran Canaria for all your hiking, biking, car touring adventures.
Digital editions of our Gran Canaria Tour & Trail Map are available as in-app purchases for Outdooractive and Locus Map apps. Discovery Walking Guides offer digital editions of Gran Canaria Tour & Trail Map in kmz (Garmin), sqlite.db for apps, and Oziexplorer formats, see website dwgwalking.co.uk for details.
Gran Canaria Tour & Trail Map - Compendium edition £5.99 from DWG
If you are a Garmin user then our kmz Garmin Custom Map file format is your choice for use in Garmin Basecamp, in your gps and in Google Earth. Check that your Garmin will accept Custom Maps before purchasing.
Quite a few gps apps use the sqlite.db digital map format. If your app uses the sqlite.db format and allows you to import maps then choose the sqlite.db option.
If you use Oziexplorer software we produce a map image as an 8bit colour png image and map calibration files that you can use directly with Oziexplorer including conversion for the Oziexplorer Android app.

Check our email Digital Purchase system before ordering
DWG delivers all of our digital products as an email containing an encrypted hyperlink from dwgwalking.co.uk
As many isp email services have high security measures these hyperlink emails are often rejected or placed in your Spam folder.
Our email is sent to the email address linked to your PayPal account; the email cannot be sent to any other address.
Before ordering check that your email (linked to your PayPal account) will accept our emails by emailing to:-
testpurchase@dwgwalking.co.uk
If you receive our email with a hyperlink to this website you are clear to order
If you do not receive the email within 5 minutes you need to reset your email account to accept emails from dwgwalking.co.uk
Repeat until you are 'clear to order'
Please action your map purchase and emails on your computer, not your phone
Buy your Gran Canaria Tour & Trail Map - digital edition
Choose which version of the map is suitable for your app -
Garmin Custom Map

sqlite.db format digital map

Oziexplorer png image + click 2022 Gran Canaria calibration files.zip for your calibration files

see Amelia Bolger's 3 Stunning Walks in Fuerteventura on Youtube


Click on the links below to move to another page:
Home Page. Madeira Mallorca Menorca Alpujarras Axarquia Costa Blanca Mountains Sierra de Aracena
Lanzarote Tenerife Gran Canaria La Palma La Gomera Fuerteventura