Menorca Minorca Walking Guide Driving Map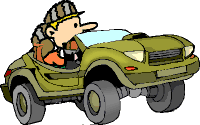 Menorca - Mediterranean Gem


history, natural beauty, beautiful beaches & family friendly
Walk! Menorca 3rd ed guidebook & Menorca Tour & Trail Super-Durable Map 7th edition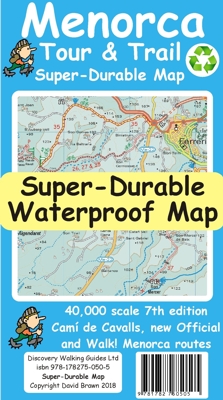 Combine achingly beautiful beaches with rolling countryside (rather like Devon in the Med), sprinkle lavishly with historic sites ranging from the Iron Age up to the Civil War, and you have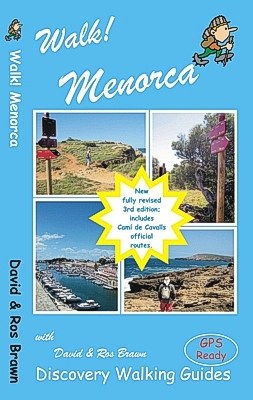 the most under-rated island in the Mediterranean - Menorca.
Wildlife in the form of birds, butterflies and wild tortoises is abundant. With over 120 beaches to choose from you will be spoilt for choice, while the sheer amount of pre-historic sites is simply amazing.
Walking is easy, although like Mallorca many older routes have been blocked by landowners making it important that you have the latest information. Walk! Menorca is a comprehensive guide to walking on Menorca with all routes uncontested at date of publication.


Choose your accommodation carefully, our choice would be a hotel in Sant Tomas or Cala Galdana, and you can look forward to a memorable vacation. Buses are frequent but for more freedom and to reach the remote regions you will need a hire car. Roads are good and quiet, but expect the usual town parking problems in Ciutadella and Mao.
Menorca is blissfully free of "Clubbers" and "Lager Louts" making it an ideal destination for everyone else!

Our Menorca Tour & Trail Map is the definitive map of this beautiful island. Loads of updates, all the walking routes from Walk! Menorca are highlighted plus street plans of Ciutadella and Mao. On our 7th edition you'll find updated roads, all the walking from Walk! Menorca plus the new official walking routes and cycling routes, making it the essential island map for everyone who wants to discover the beauty that is Menorca.
Menorca Tour & Trail Super-Durable Map 7th edition Walk! Menorca 3rd edition

Click on one of the links below to change pages:
Home Page. Titles. Key Factors. Mallorca. Ibiza & Formentera Tenerife. La Gomera. Walk! at Home-UK