Surrey 3 Peaks Challenge Map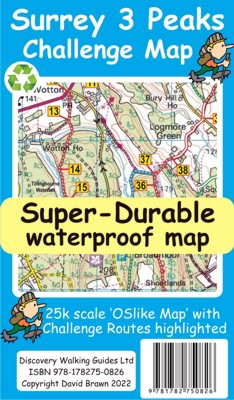 Surrey 3 Peaks Challenge Map & Guide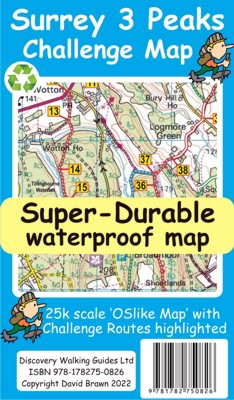 OSlike Super-Durable Maps designed to help your successful challenge.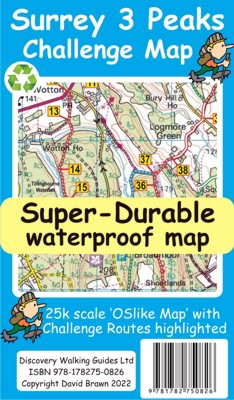 Surrey 3 Peaks Challenge Map at 25k scale with Challenge route highlighted. Isbn 9781782750826 £8.99

All hiking challenges are personal, yourself against the required completion time. A successful Challenge is a personal triumph.
With its easy access, and ten hours target time, the Surrey 3 Peaks Challenge can be completed in a single (long) day if you are within commuting distance of Dorking.

The Surrey Hills is an 'Area of Outstanding National Beauty'. It is difficult to think of anywhere more picturesque in which to undertake a walking Challenge. With all this natural beauty to hand do not forget that this is a Challenge, requiring a good level of fitness, good navigation, suitable clothing and footwear, along with refreshments and water to consume during our Challenge adventure.
If you are new to Challenge walks you might consider our Rutland Water Challenge a first step in your long distance walking before tackling the Surrey 3 Peaks.

Surrey 3 Peaks Challenge Map and Guide is a 25k scale OSlike map with the Challenge route specially highlighted.
We licence OS 50k scale mapping which is then doubled in size to produce an OSlike 25k map but the features, text and logos are now doubled in size making them much easier to read under Challenge conditions.
Our preferred Challenge Route, and two slightly different alternatives, are added and specially highlighted so that our route stands out against the OSlike 25k map.
Gps track and waypoints for the three routes are available to download as gpx files in a zip file. The 50 waypoints of our Challenge route are highlighted on the map. These gpx files can be used with all gps phone apps and gps units.
A digital Custom Map edition of our Surrey 3 Peaks map is available as a free download for use by Garmin users.

On the reverse of the map sheet is our Locator Map using OS Opendata showing the location of, and access to, Surrey 3 Peaks relative to a wide area of southern England.
The result is a double sided 600mm by 600mm map design.
We then print the map design on a 100 micron plastic substrate using a special UV curing inks process on the UK's only press capable of using this latest technology.
The result is a lightweight map that is both waterproof and tearproof, and fully recyclable, that will survive anything your Surrey 3 Peaks Challenge can throw at it and afterwards will fold up like new.

For buyers of Surrey 3 Peaks Challenge Map we are pleased to offer you a free Custom Map digital edition for use with Garmin software and gps units, plus use in Google Earth.
Simply follow the 'Digital Custom Map Edition' information printed on the map sheet.

National 3 Peaks Edale Skyline Coast 2 Coast Isle of Wight Yorkshire 3 Peaks Rutland Water



Challenge Super-Durable Maps are printed on a special 100 micron plastic substrate using UV cured inks which produces a lightweight map that feels like silk while being both water-proof and incredibly tough so that after even the toughest of adventures your Challenge Super-Durable Map will fold up like new. All materials used in producing Challenge Super-Durable Maps are 100% recyclable in category 2 HDPE.

Click on the links below to move to another page:
Home Page. Madeira Mallorca Menorca Alpujarras Axarquia Costa Blanca Mountains Sierra de Aracena
Lanzarote Tenerife Gran Canaria La Palma La Gomera Fuerteventura DWG sitemap
Unsure about DWG books and maps? Email us with your thoughts and ideas.