Edale Skyline OSlike Challenge Map

Edale Skyline Challenge Map (& Guide)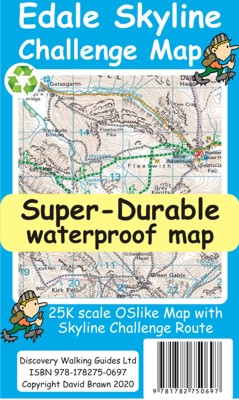 Edale Skyline Challenge Map (& Guide) £6.99 isbn 9781782750697 is available from




Edale Skyline Challenge is the most scenic of challenge routes thanks to the ridge line nature of its route.
At just over 20 miles with a 10 hour challenge time it is suitable for fit leisure walkers as a great day out in good weather; in bad weather it really is a challenge.
To produce our Edale Skyline Challenge Map first we licence Ordnance Survey 50k scale mapping.
Then we double it in size to produce a 25k scale map.
Now the OS map features, text and logos are doubled in size making for a map with outstanding clarity which is easy to read under challenge conditions.
The Skyline Challenge Route, with its options, are added and specially highlighted so that the challenge route stands out against the OS background map.
Then we add any additional detail you might need.
The result is a 600mm by 400mm 25k scale map with outstanding clarity and durability.
Our special concertina map fold means the map is easy to unfold and to refold to its pocketable 200mm by 120mm folded size.
On the reverse of the map sheet we present our detailed Challenge Route description complete with distances and timings for the sections of the route along with the 44 waypoints which define the challenge.
We then print the map design on a 100 micron plastic substrate using a special UV curing inks process on the UK's only press capable of using this latest technology.
The result is a lightweight map that is both waterproof and tearproof, and fully recyclable, that will survive anything your Challenge can throw at it and afterwards will fold up like new.
Plus a choice of Digital editions of Edale Skyline Challenge Map and gpx Waypoint File.
Choose your choice of Digital Map from Viewranger app, Locus app, and Custom Map for Garmin users.
Thanks to the conditions of licencing OS mapping we are allowed to offer each buyer of the Edale Skyline Challenge Map a free Digital Edition of the Map.
Simply follow the details on the reverse of the map. All you need to do is email our dedicated Edale email address.
We will email back to you the download links so that you can choose which digital map to download along with the gpx waypoint file.
Edale Skyline Challenge Map (& Guide) £6.99 isbn 9781782750697 is available from


Yorkshire 3 Peaks National 3 Peaks Coast 2 Coast Isle of Wight
Madeira Bus & Touring Map
Home, Titles, Madeira,
La Gomera, Mallorca, Menorca, Digital Cartography,