Fuerteventura Compendium of Walking Adventures Canary Islands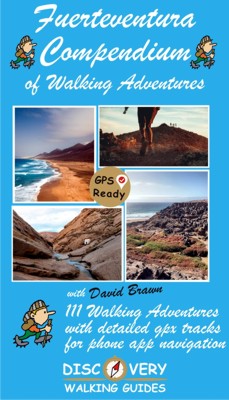 Fuerteventura Compendium of Walking Adventures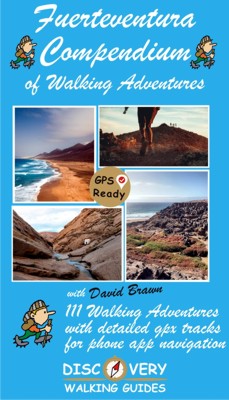 Fuerteventura Compendium of Walking Adventures contains all the ideas you need to explore this exciting island.


Fuerteventura Compendium contains 111 separate walking adventure suggestions.
Each Adventure's route is displayed on a section of the Fuerteventura Tour & Trail Map (Compendium digital edition) along with a Summary of what to expect on your adventure, and the Ratings Guide for the adventure route with ratings for Exertion, Distance, Time, Ascents and Descents, along with the type of walking route Circular, Linear – Out & Back, Linear – One Way, and the author's rating for Refreshments which might be found on the route or at start or end of the adventure.

Compendiums of Walking Adventures are designed to be used with the gps app on your phone.
Once loaded into your phone memory you do not need any phone signals, or charges, as your phone in 'flight mode' uses its map and the Compendium to guide us around the adventure with gps accuracy using phone app navigation.
Each Compendium Adventure has its own gpx file of track and way points curated by David Brawn to ensure accuracy; instructions on how to download the zip file of gpx files is at the start of the Compendium.
Our 'Map & Phone' Compendium concept is clearly explained along with how the gpx files are used for phone-app navigation.

Adventures range from a simple promenade stroll for you to test the Compendium approach, to open ground walking adventures, coastal trails, over and around volcanoes and even Fuerteventura's highest mountain M. Zarza at 814 metres altitude, a tough climb.
The Gran Recorido long distance walking route across Fuerteventura is divided into 6 linear main island sections plus the Isla de Lobos first stage.
Why settle for the limited number of routes in a guidebook when with the Compendium you can have all 111 Adventures?
Fuerteventura Compandium of Walking Adventures can be used with any phone gps app but is best when used with the Fuerteventura Tour & Trail Map (Compendium edition) which is available as an in-app purchase for Outdooractive and Locus Map apps.
Digital editions of Fuerteventura Tour & Trail Map (Compendium edition) for Garmin, phone app and Oziexplorer users are available from Discovery Walking Guides website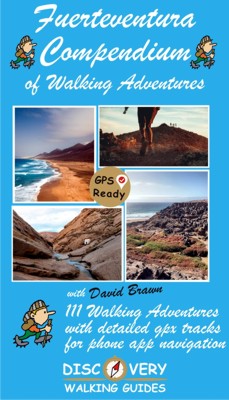 see Amelia Bolger's 3 Stunning Walks in Fuerteventura on You Tube
Kindle edition 150page kindle book plus gps downloads for all 111 Adventures for £6.99

Pdf edition 150page digital book plus gps downloads for all 111 Adventures for £6.99
Click here Fuerteventura Tour and Trail Map Compendium edition for details of our digital edition. to use with your Compendium







Click on the links below to move to another page:
Home Page. Current Titles. Madeira Mallorca Menorca Alpujarras Axarquia Costa Blanca Mountains Sierra de Aracena
Lanzarote Tenerife Gran Canaria La Palma La Gomera Fuerteventura DWG sitemap
Unsure about DWG books and maps? Email us with your thoughts and ideas.