Fuerteventura Walking Tour and Trail Map Compendium edition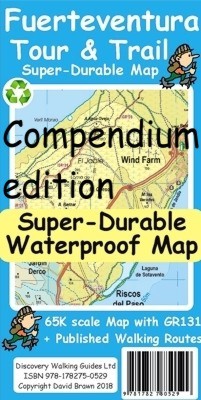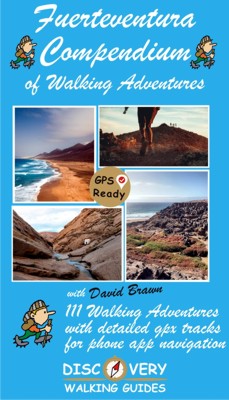 Fuerteventura Tour & Trail Map - Compendium edition replaces Custom Map
Upgraded digital editions for Compendium users
available as in-app purchase for Outdooractive and Locus Map app users
kmz (Garmin), sqlite.db (app users), Oziexplorer choice of formats for digital users

2022 sees the launch of our Compendium of Walking Adventures
A whole Compendium of 111 Walking Adventures on the island of Fuerteventura
I have taken the Fuerteventura Tour & Trail Map for upgrading to its Compendium edition that is directly compatible with our Fuerteventura Compendium of Walking Adventures
First was the checking that all 111 Adventures were correctly shown in the map design by detailed checking of each Adventure's curated gps record had been correctly represented including the drawing of new tracks and trails for several Compendium Adventures.
I took the island's Gran Recorrido 131 hiking route and divided it into 6 day walk sections. Each section is then highlighted in red and labeled in red. These Adventures are numbered 106 to 111 inclusive.
The remaining 105 Adventures roads, tracks and trails were highlighted in green. The Adventures are then numbered from NorthEast 001 Isla de Lobos going South and West across the island to Puertito where 105 heads from the SW corner towards Morro Jable.
Fuerteventura Compendium of Walking Adventures can be used with any phone/tablet gps app but is best used with our Fuerteventura Tour & Trail Map - Compendium edition with all 111 Adventures highlighted.
If you use Outdooractive or Locus Map apps then the easiest option is the in-app purchase.
If your gps app does not allow importing digital maps then consider changing to an app that does allow you to import maps eg Avenza.

Fuerteventura Tour & Trail Map - Compendium edition £5.99 from DWG
If you are a Garmin user then our kmz Garmin Custom Map file format is your choice for use in Garmin Basecamp, in your gps and in Google Earth. Check that your Garmin will accept Custom Maps before purchasing.
Quite a few gps apps use the sqlite.db digital map format. If your app uses the sqlite.db format and allows you to import maps then choose the sqlite.db option.
If you use Oziexplorer software we produce a map image as an 8bit png image and map calibration file that you can use directly with Oziexplorer including conversion for the Oziexplorer Android app.
Check our email Digital Purchase system before ordering
DWG delivers all of our digital products as an email containing an encrypted hyperlink from dwgwalking.co.uk
As many isp email services have high security measures these hyperlink emails are often rejected or placed in your Spam folder.
Our email is sent to the email address linked to your PayPal account; the email cannot be sent to any other address.
Before ordering check that your email (linked to your PayPal account) will accept our emails by emailing to:-
testpurchase@dwgwalking.co.uk
If you receive our email with a hyperlink to this website you are clear to order
If you do not receive the email within 5 minutes you need to reset your email account to accept emails from dwgwalking.co.uk
Repeat until you are 'clear to order'
Buy your Fuerteventura Tour & Trail Map - Compendium edition
Choose which version of the map is suitable for your app -
Garmin Custom Map
sqlite.db format digital map
Oziexplorer png image + click 2022 Fuerteventura Map Calibration Files.zip for your calibration files
see Amelia Bolger's 3 Stunning Walks in Fuerteventura on Youtube


Click on the links below to move to another page:
Home Page. Current Titles. Madeira Mallorca Menorca Alpujarras Axarquia Costa Blanca Mountains Sierra de Aracena
Lanzarote Tenerife Gran Canaria La Palma La Gomera Fuerteventura DWG sitemap