maps cartography madeira mallorca majorca menorca minorca tenerife aracena alpujarras gomera lanzarote
Maps & Digital Cartography
Madeira Tour & Trail Super-Durable Map Menorca Tour & Trail Super-Durable Map
Walk Mallorca Tour & Trail Super-Durable Map Sierra de Aracena Tour & Trail Map
La Gomera Tour & Trail Super-Durable Map Alpujarras Tour & Trail Super-Durable Map La Palma Tour & Trail Super-Durable Map
Tenerife Hikers' Maps Lanzarote Tour & Trail Super-Durable Map Axarquia Tour & Trail Super-Durable Map
Costa Blanca Mountains Super-Durable Map Fuerteventura Super-Durable Map

Tour & Trail Maps feature: large, easy to read 1:40,000 scale; digitally drawn for clarity and accuracy; includes a wealth of topographical detail;
all DWG published walking routes are clearly marked; 1 minute Lat/Long grid (5km UTM grid on Lanzarote, no grid on Aracena);
GPS Enabled with Datum and Meridian information.
Super-Durable (S-D) editions of our Tour & Trail Maps are printed with 100% oxygenation inks, on high density polymer with a fused china clay surface, to produce a map that feels like silk but will withstand the toughest outdoor conditions and outlast any paper map several times over.

Digital Editions of Tour & Trail Maps are available to use on Viewranger 3G phone apps.


Put Tour & Trail on your Garmin
Custom Map editions of our Tour & Trail Maps


In producing the digital map products my thanks go to John Thorn for his invaluable advice and assistance see http://www.the-thorns.org.uk/dwg/info.html

If you think that mapping is just about going through some satellite and aerial photos then this photo taken on Madeira shows how important "on the ground" observation is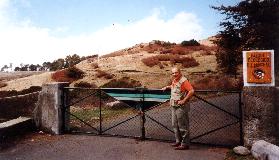 This is the permanently locked road which most maps show as a public road, from a junction mid-way between Poiso and Pico do Arieiro (on Madeira)!
To return to rather more conventional topics click below: