Walk Mallorca Majorca Tour & Trail Map
Mallorca North & Mountains Tour & Trail Map
isbn 9781782750604 £10.99
Mallorca North & Mountains Tour & Trail Map






Mallorca Super-Durable Map and Bird Watching Guide Mallorca Valldemossa updates May 2017 Click Here

Specification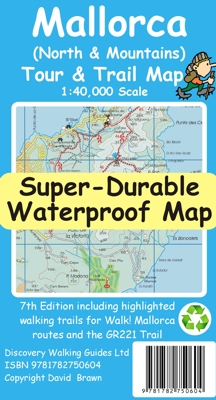 For the best adventures, use the best map. Fully detailed Mallorca adventures with our new Mallorca North & Mountains Tour & Trail Super-Durable Map 7th edition by David Brawn and Walk! Mallorca guide book by Charles Davis.
Our 7th edition gives you a super detailed, up to date, map of the Tramuntana region stretching from Peguera-Costa Calma- Santa Ponca in the west then running along the mountainous region to the very tip of the Formentor peninsula at Cap Formentor. Note this is not a map of all of Mallorca.

With a size of 1,080mm by 600mm at 40,000 scale on a double sided map sheet you get a lot of Mallorca on this map while still being easy to read thanks to our Tour & Trail design standards.
Those essential features of petrol stations, refreshment stops, miradors and off-road parking are easily seen while our background altitude shading plus 50 and 100 metre contours and spot heights bring this beautiful landscape to life.
Special 'concertina map fold' means your map unfolds quickly, and more importantly folds back to its compact pocket size easily and quickly.
Super-Durable means we have printed the map on 'Polyart' to produce a lightweight map that feels like silk but is as tough as old boots to outlast the worst of conditions and fold up like new after every use.

All the 53 walking routes from our Walk! Mallorca guide book and the route of the GR221 long distance trail are specially highlighted making these walking routes easier to find on the map and easier to follow on the ground. If you are planning Mallorca adventures on and around the Tramuntana then this is the essential map for you.
Digital editions of Mallorca (North & Mountains) Tour & Trail Map are being made available in 2022 for phone apps, Oziexplorer and Garmin users.
supported file formats:- Custom Map kmz, sqlite.db and Oziexplorer

Digital edition is available


Tour & Trail Super-Durable Maps are printed on Polyart using 100% oxygenation inks which produces a lightweight map that feels like silk while being both water-proof and incredibly tough so that after even the toughest of adventures your Tour & Trail Super-Durable Map will fold up like new. Polyart is made of high-density polyethylene (HDPE) and is therefore 100% recyclable in category 2 HDPE. For more information see the Polyart website at http://www.polyart.com/en
more Mallorca, Menorca Ibiza & Formentera Madeira, Titles