Alpujarras Sierra Nevada Map Spain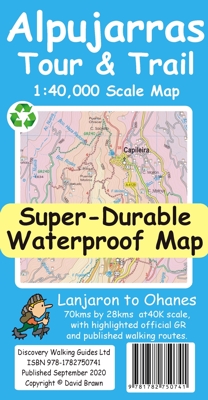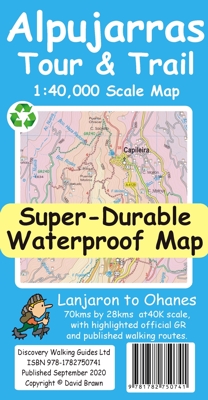 Alpujarras Tour & Trail Map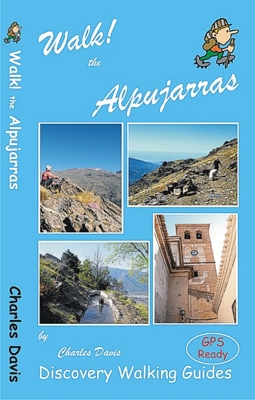 Alpujarras Tour & Trail Map 4th Edition published 20 September 2020 isbn 9781782750741 £10.99 digital editions £5.99






For the best adventures, use the best map.
The Moorish white villages of the Alpujarras are well known to day trippers from the Costa del Sol.
For walkers this is an idyllic region with stone-laid donkey trails linking the tipico villages and stretching up the southern slopes of the Sierra Nevada to Mulhacen; at 3,483 metres the highest mountain peak on mainland Spain. From Spring to the end of Autumn this is a paradise for hikers, whether you are walking from village to village sampling the local delicacies or tackling the challenging major ascents.
One thing you will know is that using the Alpujarras Tour & Trail Map will help you plan, and get the best out of, your adventures.

On a large 960mm by 700mm, double sided, map sheet at 40k scale this map has all the detail you need.
20 and 100 metre contours, combined with altitude shading, giving you a true feel to this impressive landscape.
Stretching from west of Lanjaron to Ohanes in the east taking in the Poqueira and Trevelez valleys,
while going north to include Mulhacen and Veleta mountain peaks along with the Sierra Nevada ski area.
The GR240, GR142 & GR7 (official long distance hiking routes) are specially highlighted (in green) along with all the walking routes from Walk! the Alpujarras guidebook (in red).

Our new edition Alpujarras Tour & Trail Map covers an area of 70 kms (E-W) by 28 kms (N-S); more than twice the land area of our earlier editions.
A special 'Concertina Map Fold' makes Tour & Trail Maps easy to use, and more importantly easy to fold back to their handy pocket size.

Digital editions of Alpujarras Tour & Trail Map are available for phone apps, Oziexplorer and Garmin users.
supported file formats:- Custom Map kmz, sqlite.db and Oziexplorer

Tour & Trail Super-Durable Maps are printed on a specially finished plastic substrate using special inks
which produces a lightweight map that feels like silk while being both water-proof and incredibly tough so that after even the toughest of adventures your Tour & Trail Super-Durable Map will fold up like new.
Super-Durable Maps come with a 2 year adventurous use wear and tear guarantee. All the materials used for this map are 100% recyclable in category 2 HDPE.

Tour & Trail Super-Durable Maps are printed on a plastic substrate using 100% oxygenation inks which produces a lightweight map that feels like silk while being both water-proof and incredibly tough so that after even the toughest of adventures your Tour & Trail Super-Durable Map will fold up like new. Polyart is made of high-density polyethylene (HDPE) and is therefore 100% recyclable in category 2 HDPE.
For more information see the Polyart website at http://www.polyart.com/en

Put Tour & Trail on your Garmin. Custom Map editions of our Tour & Trail Maps
Home Alpujarras Menorca, Mallorca, Madeira, La Gomera, Titles