Alpujarras Walk Walking Sierra Nevada Spain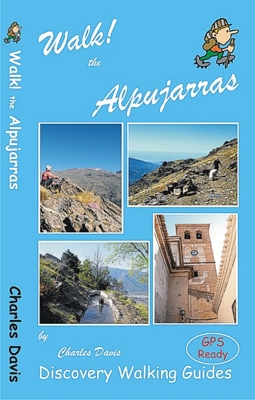 Walk! the Alpujarras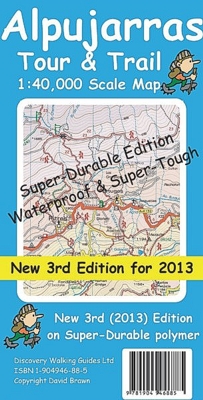 See full Specification & Contents Alpujarras Tour & Trail Map
Walk! the Alpujarras as 80 pages A4 format pdf £4.99
'Try before you Buy' download a sample walk in pdf A4 page format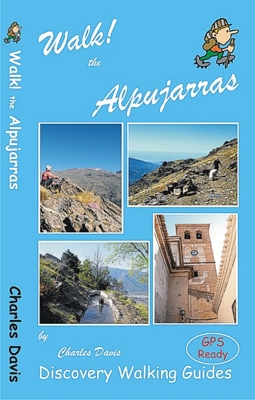 Walk! the Alpujarras is the comprehensive guide for adventurous leisure walkers choosing to explore this exciting region of Andalucia.
Combine with Alpujarras Tour & Trail Map for your complete adventure in these breathtaking landscapes.

For each of the 34 walking routes plus 5 additional alternatives there is a Fully Detailed Walk Description including Route Summary, frequent timings, colour 40K maps (Alpujarras Tour & Trail Map).

Each of the 39 walking routes has a Rating Summary covering: Exertion Rating, Walking Time, Walking Distance, Ascents & Descents in metres, Vertigo warning if applicable, and a Refreshment rating.

GPS waypoints ensure pin-point navigational accuracy for all the routes. Waypoint files (in gpx wpt and txt file formats) are available as a free zip download from Discovery Walking Guides website.
GPS waypoint files available for Alpujarras see GPX Downloads

Accommodation and regional background information are included.

All of this content is written in Charles Davis' informative and inspirational style.
See full Specification & Contents of Walk! the Alpujarras
Quite simply the most comprehensive book dedicated to walking in the Alpujarras.



Walk! the Alpujarras ebook pdf 80 pages in A4 page format £4.99
Purchase with PayPal.
After your PayPal purchase and payment is completed you will receive an email from dwgwalking.co.uk with your download link.
Please click on the download link in your email to download your Walk! the Alpujarras soon after purchase as the encrypted link is time limited.

Alpujarras. Alpujarras Tour & Trail Map . Titles. Destinations.