Zakynthos Zante Tour & Trail Map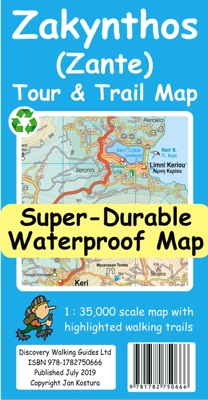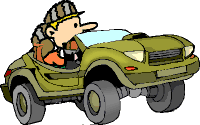 Zakynthos (Zante) - classic beauty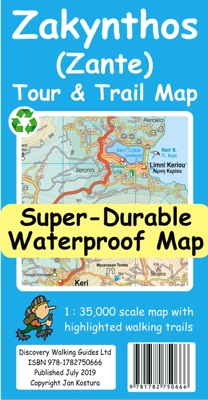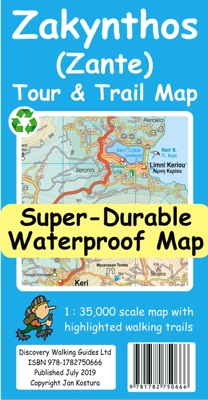 Water-proof, split-proof, tear-proof, adventure-proof. Zakynthos (Zante) Tour & Trail Super-Durable Map is simply the toughest, most accurate, easy to read, easy to use map of the island you can buy at any price.
Zakynthos (Zante) Tour & Trail Super-Durable Map isbn 9781782750666 £10.99 published August 2019 Digital Editions

available from






Your printed map includes details for you to download the Custom Map digital edition free of charge.

Zakynthos (Zante) Tour & Trail Super-Durable Map is the most detailed, accurate, toughest, large scale map of the island that you can buy. Super-Durable Maps now come with a 2 year adventurous use 'Wear and Tear' guarantee, see Discovery Walking Guides website for details.

For the best adventures, use the best map.
A large 840mm by 694mm double sided map sheet has Zakynthos (Zante) at 1:35,000 scale with the North-West of the island on the cover side and the South-East on the reverse. There is a very generous overlap between the two sides so the only time you need to turn the map over is if you are driving from Cape Skinari (NW) to Cape Gerakas (SE) at the opposite end of the island.
Our special concertina map fold makes our map easy to use and easy to refold to its 235mm by 120mm pocket size.
You can also download the digital Custom Map edition of our Zakynthos Tour & Trail Map for use with Garmin gps units and software; simply follow the instructions on the map sheet.
Our legendary 'Tour & Trail' level of detail ranges from major roads to secondary roads to minor roads to streets and narrow country roads, plus dirt roads and walking trails.
Place names are in English and Greek to aid your navigation.
Altitude shading is designed to clearly show the altitude range when travelling across the island by car or on foot.
100 metre and 20 metre contours are clearly shown on the map along with individual height points and all of the official 'Trig' points.
Tour & Trail attention to detail includes our useful symbol range including viewpoints, picnic areas, petrol stations, bar/restaurants and parking areas where you can pull off the road safely. You will easily identify springs, caves, sports grounds, cemeteries, churches, chapels, lighthouses, towers and forts, camping areas, wind turbines, hotels etc.
We have ensured that all the walking routes from the Sunflower walking guide book are highlighted (red) on the maps.
It all adds up to the most detailed, most durable, most useful map of Zakynthos (Zante) that you can buy anywhere.

Super-Durable editions are printed with 100% oxygenation inks on Polyart by the UK's leading map printer. This produces a Super-Durable Map that feels like silk but will stand up to the roughest treatment of outdoor adventuring and yet fold up like new at the end of your adventure.
Super-Durable maps are 100% recyclable.
available from






Digital editions of Zakynthos (Zante) Tour & Trail Map are available for phone apps, Oziexplorer and Garmin users.
supported file formats:- Custom Map kmz, sqlite.db and Oziexplorer

Click on one of the links below to change pages:
Home Page. Titles. Key Factors. Corfu Ibiza Mallorca. Menorca Tenerife. La Gomera. Walk! at Home-UK