Menorca Minorca Walking Guide Book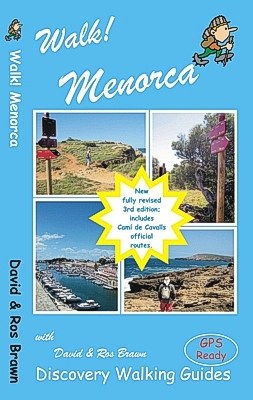 Walk! Menorca 3rd edition


see full Walk! Menorca specification download our latest Update Notes
Menorca Tour & Trail Super-Durable Map 7th edition 2018

The island of Menorca (Minorca) is a true Mediterranean gem; unspoilt countyside, beautiful beaches, prehistoric sites, a wealth of wild flowers, wild tortoises, butterflies, bird life, historic towns and relics from the island's turbulent past.

Such a special island deserves only the best so Walk! Menorca has been researched to our 'no compromise' standards so that you can embark on the adventures confident that the routes work.

For our 3rd edition we have nine new routes, including the best sections of the Cami de Cavalls, but have lost seven old routes due to access problems.
The result is 44 fully detailed walk itineraries ranging from town walks around Ciutadella and Mao (Mahon) to adventurous and exciting adventures suitable for a wide range of fitness levels. You will find routes suitable for families, ranging up to whole day adventures, so that everyone will find all the walking adventures you might need in Menorca s most popular walking guide book.

Every walking route has; Walking Route Summary; Ratings for Effort, Time, Distance, Ascents/Descents and Refreshments; Fully detailed walk description with frequent timings to aid navigation; full colour 1:40,000 scale Tour & Trail Map of the route; GPS waypoints for key points on all country routes.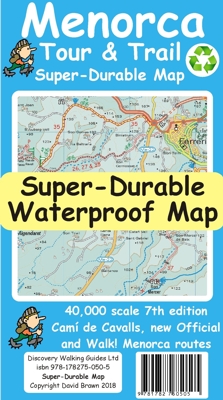 Some of Menorca's riches can be reached by car, but to truely get the best from the island you should set out on foot to discover these beautiful landscapes and beauty spots.
Simply add our new Menorca Tour & Trail Super-Durable Map (7th edition) to Walk! Menorca (3rd edition) and you have everything you need to enjoy a range of memorable adventures on this beautiful island.
GPS Waypoint files for Walk! Menorca are available as free zip download from Discovery Walking Guides website. see full Walk! Menorca specification
Walk! Menorca 3rd edition guidebook Walk! Menorca gpx files click here for GPX Downloads page
Download our Walk! Menorca Sample Walk download our latest Update Notes



Menorca Tour & Trail Super-Durable Map 7th edition
Walk! Menorca ebook pdf 80 pages in A4 page format £4.99
Purchase with PayPal.
After your PayPal purchase and payment is completed you will receive an email with your download link.
Please click on the download link in your email to download your Walk! Menorca soon after purchase as the encrypted link is time limited.
Click on one of the links below to change pages:
Home Page. Titles. Mallorca. Ibiza & Formentera Madeira Tenerife. La Gomera.