madeira walk walks walking hiking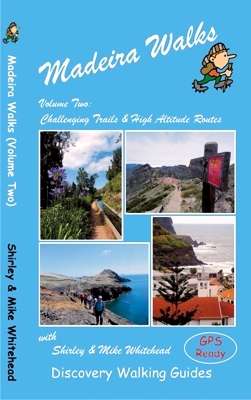 Madeira Walks volume 2
Challenging Trails & High Altitude Routes

isbn 9781782750055 £12.99





176 pages 210mm by 120mm, full colour, 40+ fully detailed walking routes, Tour & Trail maps for all walking trails.GPS waypoints.
See GPX File Downloads for the gps files for this book.
Back in 2005 we met with the Madeira Times walking writer Shirley Whitehead. Visitors to Madeira will know Shirley's enthusiastic style and intimate local knowledge. The first edition of 'Shirley Whitehead's Madeira Walks' was a great success to be followed by an expanded edition and 'Walk! Madeira' to give comprehensive coverage of walking trails across the whole island.
Shirley, with husband Mike, has now comprehensively researched Madeira for her latest 'Madeira Walks' guide books; updating earlier walking routes along with bringing in new routes. Madeira offers such a wealth of walking adventures that Shirley (& Mike) have produced two volumes for her new books - 'Volume 1 Leisure Trails' aimed at 'family friendly' walking routes suitable for all walkers, and 'Volume 2 Challenging Trails & High Altitude Routes' for fit hikers seeking top end adventures.
Combined with our latest Madeira Tour & Trail Map Madeira Walks volumes 1 & 2 give you everything you need to explore the wealth of walking adventures available on the 'Garden Isle'.

Each of the 40+ walking route descriptions includes:-
Route summary giving overall view of the route and access information; Ratings for Effort, Time, Distance, Ascents/Descents, Refreshments, and Vertigo risk where applicable, in an easy to see pictorial 'Summary' box: Fully detailed walk description, including frequent timings to aid navigation and check your progress; GPS waypoints at every key point on every route (subject to reception); full colour 1:40,000 scale mapping for each route taken from the latest edition of Madeira Tour & Trail Map.
As a walker's paradise, Madeira has it all - majestic mountains, rugged coastline, ancient forests, a unique levada network and verdant flora; easy to see why so many walkers return year after year.
In 2015 Madeira was voted the "World's Best Island Destination" by the World Travel Awards the final accolade from the previous two years when it was voted "Europe's Leading Island Destination". Quite an achievement, brought about largely by the substantial EU investment over the past decade in the improvement and development of the island's infrastructure and facilities.

One of the initiatives focused on improving and creating new walking trails which has resulted in Madeira now being regarded as one of Europe's top hiking destinations.
To date, around thirty routes on Madeira have been designated Recommended Trails for Hikers and currently our guides are the only publications to include all these trails. We have also taken on board the many comments received from walkers over the last few years.

Taking all the above into account, we've reorganized our books into a compendium of two editions; Madeira Walks: Volume One, Leisure Trails (published May 2015) included the shorter and easier trails whilst Madeira Walks: Volume Two covers 40 more challenging and high altitude routes.
There's a good balance including coastal routes, forest trails, moorland and mountain pathways and levada walks although the terrain varies greatly. We've introduced a number of new routes whilst continuing to include our favourite 'off the beaten track' trails, so regardless of fitness, age or ability, there's something for everyone.

Both books are arranged by geographic area, then by exertion rating under each heading. All the trails have been surveyed and mapped using GPS satellite navigation.
The authors and their co-walkers have walked all these routes and continue to revisit as many as possible, especially those we believe could be subject to change; this ensures accuracy and up to date information for hikers.
Clear descriptions guide the walker both to the starting point and throughout the routes, with gradings, distances, timings and altitudes all symbolized. Whilst distances vary considerably, many of the routes have steep ascents or descents and a few are subject to some extremely precipitous sections.
Some information on flora and fauna is also included, while references to places of interest give readers a sense of the culture and history around these trails.
Map sections were developed from the Madeira Tour & Trail Map, by far the most up to date and best-selling map on the island. In addition to the walking trails, viewing platforms (miradouros) are found around the island providing strategic positions for taking in the most stunning views. Barbeque and picnic areas are also positioned in picturesque locations around the island.
See GPX File Downloads for the gps files for this book.