madeira walk walks walking hiking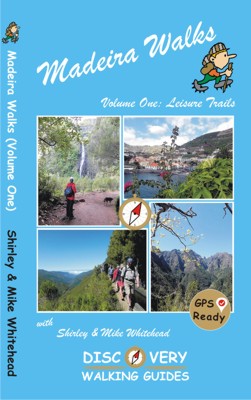 Madeira Walks volume 1 Leisure Trails new 2nd edition

isbn 9781782750581 £12.99





160 pages 210mm by 120mm, full colour, 40+ fully detailed walking routes, Tour & Trail maps for all walking trails.GPS waypoints.
See GPX File Downloads for the gps files for this book. Latest Walking/Map Updates Sept 2018

Back in 2005 we met with the Madeira Times walking writer Shirley Whitehead. Visitors to Madeira will know Shirley's enthusiastic style and intimate local knowledge. The first edition of 'Shirley Whitehead's Madeira Walks' was a great success to be followed by an expanded edition and 'Walk! Madeira' to give comprehensive coverage of walking trails across the whole island.
Shirley, with husband Mike, has now comprehensively researched Madeira for her latest 'Madeira Walks' guide books; updating earlier walking routes along with bringing in new routes. Madeira offers such a wealth of walking adventures that Shirley (& Mike) have produced two volumes for her new books - 'Volume 1 Leisure Trails' aimed at 'family friendly' walking routes suitable for all walkers, and 'Volume 2 Challenging Trails & High Altitude Routes' for fit hikers seeking top end adventures. Now Shirley has updated her 'Volume 1 Leisure Trails' for the detailed changes that have happened since the 1st edition was published.
Combined with our latest Madeira Tour & Trail Map Madeira Walks volumes 1 & 2 give you everything you need to explore the wealth of walking adventures available on the 'Garden Isle'.

Each of the 40+ walking route descriptions includes:-
Route summary giving overall view of the route and access information; Ratings for Effort, Time, Distance, Ascents/Descents, Refreshments, and Vertigo risk where applicable, in an easy to see pictorial 'Summary' box: Fully detailed walk description, including frequent timings to aid navigation and check your progress; GPS waypoints at every key point on every route (subject to reception); full colour 1:40,000 scale mapping for each route taken from the latest edition of Madeira Tour & Trail Map.
Madeira Walks volume 1 Leisure Trails - see the full specification and content here Madeira Walks volume 2 Challenging Trails & High Altitude Routes