Lanzarote Guide Book Specification Contents
5th edition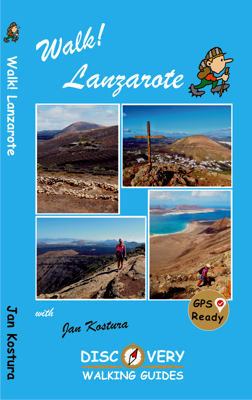 Walk! Lanzarote

£12.99
Lanzarote's most popular walking guide book just got even better.
Walk! Lanzarote 5th edition builds on the reputation of our earlier editions with more walks and comprehensive updating so that it caters for the needs of the increasing number of people who would like to combine some walking with a holiday on the Fire island. Walk Lanzarote explodes the myth that there is nowhere worth walking on the island as we range through strolling on coastal promenades, walking across alpine style meadows, striding over the lava sea, dropping into volcanoes, sitting on high mountain seats - quite simply you will be amazed at the wide variety of stunning landscapes the Fire island has to offer the adventurous leisure walker.
new extended coastal route from Arrieta to Los Cocoteros to Costa Teguise,
new Playa Blanca to Las Brenas to Yaiza on the GR131, which also updates our Yaiza to Las Brenas circular,
newly revised Tabayesco circular,
Montana Blanca and Montana Soo are circular adventures in new locations,
revised Helechos Cirrcular now starting at Guinate,
Yaiza – Uga Circular including a section of the GR131,
El Golfo Circular in detail and available as a Timanfaya guided walk,
Mirador del Rio, and the revised Corona's Northern Tour.
Walk Lanzarote's forty one main walking routes provide a wide variety of adventures with routes ranging from family friendly costal promenades through a surprising range of landscapes up to some serious hiking. Every route is an adventure that will make you eager to explore further on this spectacular island.
Walk Lanzarote is produced to our highest standards with walk summary and rating, fully detailed description, frequent timings so you can check your progress, compass directions, and gps waypoints for all country routes.
Each country route has full 1:40,000 scale colour mapping and gps waypoints dedicated to that route, while our Teguise town walk uses a large scale street plan. All routes are illustrated with colour photos.
Culture and agriculture are included along with a Thingy section on modern art. We've emphasised the Access by Bus sections for each walk along with our Access by Car information for each walking route.
Map sections for each route are taken from the Lanzarote Tour & Trail Super-Durable Map 5th edition.
For gps users the gps waypoint files are available as a free downloadable zip file on the Discovery Walking Guides website.
Click 'Here Contents' to see the full Contents of Walk! Lanzarote.
Quite simply the best book of Lanzarote that you can buy. If this is your first visit to Lanzarote then Walk! Lanzarote plus Lanzarote Tour & Trail Map will give you a series of adventures that will have you returning to the Fire island to experience more.
Walk! Lanzarote waypoint files in gpx file format available as a free downloadable zip file - see GPX Downloads
Back to Lanzarote main web page see Lanzarote Tour & Trail Map new 5th edition