Lanzarote Tour & Trail Map 2009
Lanzarote Tour & Trail Map - 5th Edition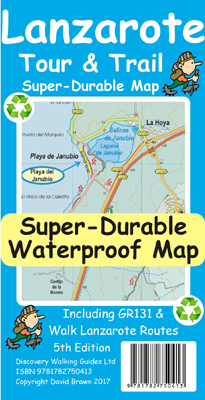 isbn 978-1782750-41-3 £10.99






Super-Durable Map - 2 Year Guarantee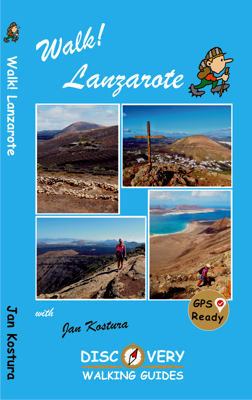 Lanzarote Tour & Trail Super-Durable Map 5th edition covers this big island at a scale of 1:40,000 resulting in the most detailed and toughest map of Lanzarote that you can buy.
Large 960mm by 700mm double sided map sheet with generous overlap, to reduce turning the map in use, folds to 235mm by 120mm pocket size using our special 'concertina map fold'.
Super-Durable Maps now come with a 2 year adventurous use wear and tear guarantee, see Discovery Walking Guides website for details.

New for the 5th edition of Lanzarote's favourite map are all the country walking routes from the new Walk! Lanzarote are clearly detailed in a new enhanced format similar to the GR131 - GR in Green and Walk! routes in Red.
New font specifications make place names easier to read and identify where you want to go.
20 metre contour mapping gives a detailed view of the terrain of this interesting island.
Also included is a full island map of La Graciosa at 1:40,000 scale for those people adventuring or staying on the island.

At 1:40,000 scale the level of detail we can include on the map is awesome compared to any other map of the island that you can buy.
In addition to the usual high level of detail on our Tour & Trail Maps we have special 'Lava' fills to define the lava fields and a 'Zocos' fill to define the famous La Geria region. The result is the definitive map of Lanzarote.

Super-Durable version is produced on a special polymer substrate (Polyart) using 100% oxygenation inks which results in a map that is virtually tear proof, water proof, baby proof, almost dog proof and our special 'map folding' means that the map opens easily, and more importantly folds up easily to pocket size after your adventures. Super-Durable means that this map will outlast any paper map many times over.
Digital editions of Lanzarote Tour & Trail Map are available for phone apps, Oziexplorer and Garmin users.
supported file formats:- Custom Map kmz, sqlite.db and Oziexplorer plus In-App purchases



Tour & Trail Super-Durable Maps are printed on Polyart using 100% oxygenation inks which produces a lightweight map that feels like silk while being both water-proof and incredibly tough so that after even the toughest of adventures your Tour & Trail Super-Durable Map will fold up like new. Polyart is made of high-density polyethylene (HDPE) and is therefore 100% recyclable in category 2 HDPE. For more information see the Polyart website
Available from






Digital edition of Lanzarote Tour & Trail Map available from