Formentera Tour & Trail Map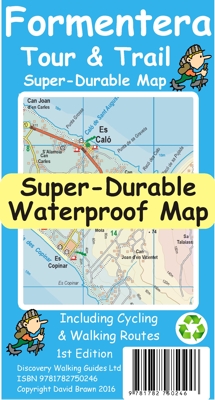 Water-proof, split-proof, tear-proof, adventure-proof. Formentera Tour & Trail Super-Durable Map is simply the toughest, most accurate, easy to read, easy to use map of the island you can buy at any price. David & Ros Brawn surveyed this beautiful island carrying out their 'gps ground survey' pinpointing all the details needed to produce the definitive map of Formentera.
Formentera Tour & Trail Map isbn 9781782750246 £10.99
available from






Digital editions of Formentera Tour & Trail Map are available for phone apps, Oziexplorer and Garmin users.
supported file formats:- Custom Map kmz, sqlite.db and Oziexplorer - click here

Large, 25k scale, easy to read map sheet includes a wealth of useful details. 20 metre and 100 metre contours combined with altitude shading bring the Formentera landscape to life. All of the legendary Tour & Trail attention to detail is included so that you will find those petrol stations, mirador viewpoints with parking, refreshment stops with parking and accurate road numbering that are so essential when adventuring by hire car; 'watts' new and unique to Formentera we have included the 'Electric hire car' recharging points making sure you never run out of go.

'Off-Tarmac' Formentera Tour & Trail Map is in a league of its own thanks to all the gps information for the cycling and walking trails plus all of the island's famous beaches are shown and named. Printed on a large 840mm by 620mm super-durable map sheet the island of Formentera at 25,000 scale is on the facing page of the map sheet which folds back to a pocketable 235mm by 120mm when folded.
On the reverse side of the map sheet you will find large scale street plans along with a host of useful information to make the most of your time on the island.

'Super-Durable' means a waterproof, tear-proof, map that can take the roughest treatment and still folds up like new after your adventures. Printed on Polyart using specialist 100% oxygenation inks produces a lightweight map that feels like silk but is a tough as old boots as it shrugs off water, resists tearing and damage better than any other map. 'Super-Durable' combined with our special concertina map fold means this 'near indestructible' Tour & Trail Map unfolds easily for use, and more importantly folds back up easily to its compact pocket size even after the toughest use.

Tour & Trail Super-Durable Maps are printed on Polyart using 100% oxygenation inks which produces a lightweight map that feels like silk while being both water-proof and incredibly tough so that after even the toughest of adventures your Tour & Trail Super-Durable Map will fold up like new. Polyart is made of high-density polyethylene (HDPE) and is therefore 100% recyclable in category 2 HDPE. For more information see the Polyart website at http://www.polyart.com/en
Digital editions of Formentera Tour & Trail Map are available for phone apps, Oziexplorer and Garmin users.
supported file formats:- Custom Map kmz, sqlite.db and Oziexplorer - click here


Digital edition of Formentera Tour & Trail Map is available from

Click on one of the links below to change pages:
Home Page. Titles. Key Factors. Ibiza Mallorca. Menorca Tenerife. La Gomera. Walk! at Home-UK