Axarquia Guide Book Specification Contents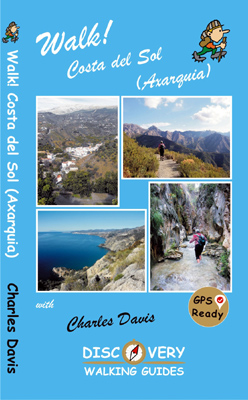 Walk! Costa del Sol (Axarquia)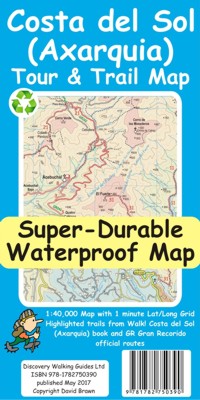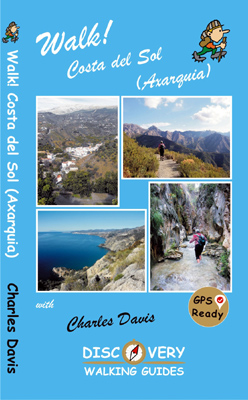 Here we celebrate a Costa del Sol that does not correspond to the clichés, a Costa del Sol that is all right rather than all wrong, a playground of green valleys and gilded mountain tops, a hidden idyll unknown to most visitors, a haven for dedicated walkers and adventurous tourists alike, a place in which every nook is graced with some gratifying discovery and every outing is a great adventure.
Walk! Costa del (Axarquia) detailed contents click 'Contents' "Download Sample Walk 32 as a pdf file" with corrected timings.

The majority of our walks are aimed at the adventurous leisure walker, people who will on the whole have some experience of hiking in mountains, are happy to invest a certain amount of effort for a corresponding reward.
Covering the best preserved stretch of coastline, the prettiest villages, and most spectacular mountains, Walk! Costa del Sol explores the Axarquía region east of Málaga. An area blessed with grand summits, dizzying pinnacles, dramatic crags, deep ravines, delightful streams, stunning views, and the finest coves on the Costa del Sol; all of it knitted together by a network of paths, trails, tracks and lanes so beguiling that walking is by far the best way to explore this lovely landscape.

The Coast: Torre del Mar, Torrox Costa, Nerja, Maro are well-placed for accessing the itineraries between Canillas de Aceituno and Cómpeta.
The Mountains: the Sierra de Tejeda and Sierra de Almijara.

The Sierra is a discrete massif defined by cliffs, gullies and gorges, and culminating in the Iberian Peninsula's westernmost 2000 metre summit (La Maroma, Walk 35), while the Sierra Almijara comprises numerous mini-ranges separated by canyons.
The traditional dividing point between the two sierras is Puerto de Cómpeta, which we visit in Walk 36. The joys of these mountains are manifold, including bulbous karstic domes and vertiginous pinnacles, dramatic cliffs draped with ragged crags and grand ridges dominating the glittering blue sea; there are uplands patched with ancient pastures and dotted with the ruins of remote cortijos (farmhouses), there are terraces stippled with olive and almond trees, hillsides swaddled in a buttery blanket of yellow-flowering shrubs, valleys flanked by shady forests of conifer and cork oak, and fabulous ravines twisting between towering chicanes (known as cahorros) and tipping over spectacular waterfalls into deep plunge pools, all accessible within 15 minutes of the coast.
The White Villages: the Pueblos Blancos of Andalusia with their whitewashed walls and red-tiled roofs are justly famous and the Axarquía does not disappoint in this respect. The best known pueblos blancos and the main gateway destinations for walkers are Cómpeta and Frigiliana. West of Cómpeta are some of the region's prettiest villages, the two Canillas (Aceituno and Albaida), Sedella, Salares and Árchez. Walk! Costa del Sol (Axarquia) together with Costa del Sol Tour & Trail Map will give you a series of adventures you'll never forget.
Walk! Costa del Sol (Axarquia) detailed contents click 'Contents' GPS navigation files for Walk! Costa del Sol (Axarquia) "Download Sample Walk 32 as a pdf file" with corrected timings.
Walk! Costa del Sol (Axarquia) book isbn 9781782750451 £12.99 available from





Walk! the Costa del Sol (Axarquia) ebook pdf £4.99 You can get this title for Free click here
Purchase with PayPal.
After your PayPal purchase and payment is completed you will receive an email from dwgwalking.co.uk with your download link.
Please click on the download link in your email to download your Walk! the Costa del Sol (Axarquia) soon after purchase as the encrypted link is time limited.

Back to Walk! Costa del Sol (Axarquia) main web page