22Andorra walk walking Spain hike hiking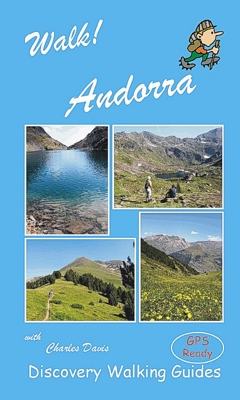 Walk! Andorra with Charles Davis
ISBN 978-1-78275-016-1 pdf ebook £4.99 80 A4 pages, full colour, 40K scale mapping

GPS navigation files now available for Andorra - see PNFs

Walk! Andorra Specification & Contents See Walk 11 Sample Walk as an A4 pdf
Here's something special for people with ambitions to high altitude walking; Andorra. Spectacular in the extreme was our thought when looking through Charles' digital images taken en-route as he and Jeanette trek all over this Pyrenean Principality. If you're up for high mountain adventures during the summer then Andorra is your first choice.
Just read through Charles Davis' introduction and inspirational walk descriptions, and you'll be hooked. Routes include over-nighting in high altitude refuges (a first in a DWG guide book), as well as more conventional day walking. When you see these mountains, you immediately understand the reluctance to return to the valley floor, only to climb back up the next morning! Sufficient to say this is the high altitude, high energy end of walking adventure. If high mountain tops stir the challenge in you, now you know where to head for this summer.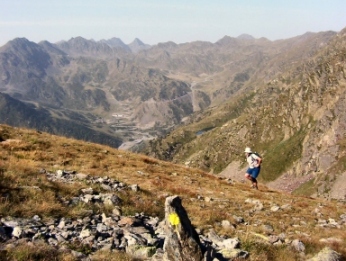 Surprisingly, given this Pyrenean Principality's mountainous nature, there are some easy and moderately rated walks; some taking advantage of 'luxury ascents' using the ski-lifts.
In addition to Charles' usual high standard of inspirational walk descriptions, Walk! Andorra contains extensive background information for the independent traveler.
Walk! Andorra isbn 978-1-78275-016-1 £4.99 80 A4 pages in full colour with 40K scale mapping.

Andorra; the new destination for walkers with high-altitude ambitions. Charles Davis' introduction to the principality and his inspirational walk descriptions will soon have you hooked on taking a Spring/Summer/Autumn break high in the Pyrenees. 30 fully detailed walking route itineraries include two two-day hikes over nighting in beautiful Andorran refuges.
Each walking route itinerary includes:-
- walking route summary
- ratings for Effort, Time, Distance, Ascents/Descents, Refreshments and Vertigo risk
- fully detailed walk description, including frequent timings to aid navigation and check your progress
- GPS Waypoints at every key point on every route for pin-point navigational accuracy
- full colour 1:40,000 scale map of the route
- short walk and stroll alternatives
There are some easy routes. There are some challenging routes for fit experts. With Charles Davis' excellent walk descriptions you'll know which routes are for you - and all of them are a true adventure.
Andorra is best known as a winter package destination but Walk! Andorra is the other Andorra of a traditional, timeless, romantic, landlocked principality high in the Pyrenees, the Andorra of independent character and a cheerful contempt for other people's frontiers, of smugglers' paths and high mountain passes, of medieval villages and remote refuges, the Andorra of a thousand lakes, of tumbling torrents, towering peaks, splendid vistas, meadows full of wild flowers, and some of the finest paths in the Pyrenees.
In addition to the walking Walk! Andorra includes comprehensive background information on the principality and accommodation, mountain biking routes, history and legends, and even what to do when you are not walking.
Walk! Andorra; a modern classic from Charles Davis, the 'rock star' of mountain walking.
Walk! Andorra isbn 978-1-78275-016-1 ebook pdf 80 pages in A4 page format £4.99 You can get this title for Free click here
Purchase with PayPal.
After your PayPal purchase and payment is completed you will receive an email with your download link.
Please click on the download link in your email to download your Walk! Andorra soon after purchase as the encrypted link is time limited.
Home Page Titles Axarquia Alpujarras Lanzarote La Gomera La Palma
Walk! Abroad Walk! at Home-UK