National 3 Peaks Challenge walk walking UK hike hikingthe yorkshire three peaks challenge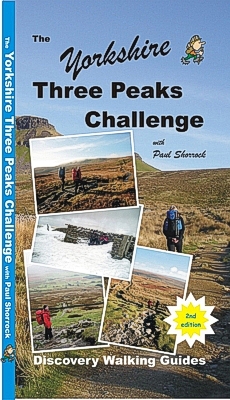 The Yorkshire Three Peaks Challenge with Paul Shorrock

ISBN 978-1-904946-64-9 £8.99 96 pages with full colour photos, full size OS 25k maps for all walking routes, perfect bound.





Custom Maps for Garmins
Contents of The Yorkshire Three Peaks Challenge
The Author
Acknowledgements 5
Friends Reunited 6
Diary of a Project 9
Introduction 13
Geology and Landscape 14
Natural History 16
Human Influence 16
First Things First
Clothing and Equipment 20
Navigation 23
If Things Start to Go Wrong 24
Preparation
Getting Fit 27
Planning - the Strategy 28
The Day of the Challenge - Tactics 29
Tips for Success 30
Walk Location Map 32
Symbols Rating Guide & Notes on OS Mapping 33
Using GPS on the Yorkshire Three Peaks Challenge 34

THE WALKS
MAKING A START - THREE PEAKS, ONE AT A TIME 36
1 Peny Ghent from Horton in Ribblesdale 37
4 walker, 3 hour 15 mins, 5.8 miles/9.3km, ascents &
descents 488 metres, 4 refreshments (circular)
2 Whernside from Ribblehead 42
4 walker, 4 hours, 7.8 miles/12.6km, ascents &
descents 478 metres, 4 refreshments (circular)
3 Ingleborough from the Hill Inn 47
4 walker, 4 hours, 7.9 miles/12.8km, ascents &
descents 513 metres, 4 refreshments (circular)
THE MISSING LINKS - FILLING IN THE GAPS 52
4 Horton in Ribblesdale, Pen y Ghent, Ribblehead 53
5 walker, 5½ hours, 10.25 miles/16.5km, ascents 647
metres, descents 587 metres, 4 refreshments (linear)
5 Ribblehead, Whernside, Hill Inn, Ribblehead 59
4 walker, 4 hours, 7.8 miles/12.5km, ascents &
descents 528 metres, 4 refreshments (circular)
6 Ribblehead, Hill Inn, Ingleborough, Horton in
Ribblesdale 64
5 walker, 4¼ hours, 9.5 miles/15.4km, ascents 492,
metres, descents 564 metres, 4 refreshments (linear)
THE THREE PEAKS CHALLENGE
7 The Big Day! 70
5+ walker, 11¾ hours, 21.75 miles/35km, ascents &
descents 1570 metres (circular)

After the Three Peaks Challenge 82

Some Final Thoughts 84
GPS Waypoints and Co-ordinates 86
Accommodation 88
Other Useful Information 90
Glossary 92
Place Names Index 94
GPS files available for Yorkshire Three Peaks Challenge.


Custom Maps for Garmins

The Three Peaks of the Yorkshire Dales provide some of the finest walking in Britain. With a combination of high peaks and stunning scenery the area is rightly popular with outdoor types, from leisure walkers up to super-fit fell runners. It always seems to follow that when you have a mix of high places and human beings, sooner or later someone will come up with an idea of a challenge of some kind. With the Three Peaks of Pen y Ghent, Whernside and Ingleborough the solution was simple - do them all in one walk!
more improvements making the routes easier or more comfortable
Thanks to Andrew for bring us up to date on the latest improvements on Y3P routes. Main change is that the 'official' route is now the same as Paul Shorrock's. Elsewhere stiles are being replaced by gates, wayposts and signs are being improved, and 'causeway stones' are being laid to reduce erosion; a lot of these improvements are thanks to the 'Friends of the Yorkshire 3 Peaks' voluntary organisation. These improvements are ongoing so expect to find new gates, signs, stone laid trails, on the Y3P.
Overall the effect of these improvements is to reduce holdups and maintanance of stiles, reduce the chances of taking a wrong turning, and to reduce the erosion. Everyone who has experienced the Y3P Challenge will recognise that gates are easier and quicker than stiles, and 'causeway stones' are a vast improvement over negotiating soggy eroded peat. The overall effect will be to make the Y3P 12hour Challenge more achievable for more hikers. Under refreshments the Burger Van at Ribblehead car park continues trading, so much so that it can be thought of as a permanent feature!
Also see 'National 3 Peaks - Taking Up The Challenge' and 'Walk! the Yorkshire Dales'

Home Page Lake District North Lake District South Peak District South Dartmoor Exmoor South Downs
Yorkshire Dales South Pennines Dorset Isle of Wight Devon Titles Abroad