Tenerife Walking maps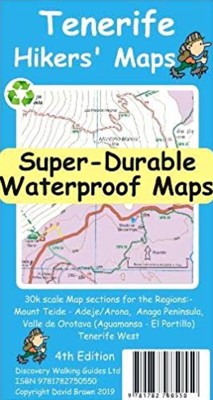 Tenerife Hikers' Custom Maps
these are the digital editions of Tenerife Hikers' Maps ISBN 9781782750550 £8.99
Our latest Hiking Map is produced in 1:30,000 scale,
and designed to accompany our Walk! Tenerife guide book.
For the best adventures, use the best map.

Our latest hiking research on Tenerife has resulted in new editions of Walk! Tenerife and Tenerife Hikers' Super-Durable Maps. Thanks to Jan Kostura's research we have several new hiking adventures described in detail in Walk! Tenerife. Jan's gps records of his research for new routes and updating of current routes has provided the detailed information to produce our new edition of Tenerife Hiker's Super-Durable Maps.
Note that Tenerife Hikers' Super-Durable Maps is a collection of four 30k scale map sections on a double sided sheet of 840mm by 600mm which folds up to 220mm by 120mm.
It is not a map of all of Tenerife.
In this Custom Maps digital edition you will find the 4 Hikers' Maps covering Valle de Orotava, West, Anaga and Adeje/Arona - Teide packed into a zip file for easy downloading.
For the specification of these maps see the printed Tenerife Hikers' Maps webpage

This map is intended to be used with modern Garmin GPS units which have the CustomMaps facility.
It can also be used with Google Earth and Garmin Basecamp software.
Before downloading the Custom Map please read our Downloading & Using Tour & Trail Custom Maps
To download our Tenerife Hikers' Custom Maps simply follow these instructions:
Digital Maps go Free on 1 April 2020

Simply remove the spaces from this email address ten2020 @ dwgwalking.co.uk
then email us with Tenerife in the header
our autoresponder system will then send you an email with our advice and download links.
Your email system must allow emails from dwgwalking.co.uk containing hyperlinks
If you do not receive our email, reset your email box and email again
Remember that this download is a zip file, you must save it to your hard drive and then unzip it into its 4 Custom Map kmz files before using those files.
Need your Custom Map for non-Garmin gps units and phones?
John Thorn has produced a special version of MAPC2MAPC to process these Tour and Trail Custom Maps
so there is no further cost to using them in other Apps - See John's MAPC2MAPC software
Tenerife Hikers' Super-Durable Maps ISBN 978-1782750550 £8.99



Digital Tenerife Hikers' Maps available from




back to Tenerife Walk! Tenerife