.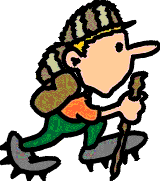 The Canaries - How to choose one! by Ros Brawn
The typical television image that springs to mind is one of beaches, bars and nightlife. The Canary Islands have all this, if you want it, but they offer a wealth of different experiences, particularly for walkers, ramblers and trekkers.
There are seven islands, each with a distinct personality. If you are interested in a walking holiday on one of the islands (or even a holiday with a little walking) these brief factfiles should help you reach the right choice for you.
TENERIFE for the holidaymaker: - a wide choice of package holidays, flights, resorts, trips, accommodation, beaches, entertainment, nightlife, shopping, culture, restaurants. The island with everything from its 'tabloid' image up to top hotels and stunning landscapes. Mount Teide is the highest mountain in Spain and a must to visit.
For the walker - a vast choice of walking from strolls to challenging hikes on coasts, hinterland and in the mountains.
Wild volcanic scenery and desert landscapes, ancient forests, lush subtropical flowers.
Good access by bus/taxi/hire car.
Good guide books available.


LA GOMERA for the holidaymaker: - beginning to wake up to tourism, but still unspoilt; see it now.
Choice of packages. Accommodation in the few coastal resorts, where bars/restaurants, modest shops but little nightlife is found. Short ferry hop from Tenerife. Limited public transport.
For the walker - offers everything from easy strolls to real challenges for experts. Unbeatable wild natural landscapes, mountains and ravines, old forests and unique plant life.
Highly recommended, our favourite island.

LA PALMA for the holidaymaker: - quiet, mostly uncommercialised, relaxing, but limited choice of packages/flights and accommodation. Good for the more independent traveller.
For the walker - all types of walker will be well rewarded; unspoilt, varied strolls, walks and long hikes. Excellent dramatic mountainous scenery, unspoilt flora and fauna.
Choice of guide books. Access to some walks by hire car or taxi, some areas served by buses.

GRAN CANARIA for the holidaymaker: - good choice of package holidays, good public transport; several main resort areas offering large choice of hotels, bars, restaurants, shops, entertainment, etc.
For the walker - plenty of choice of walks from beginner to expert. Many routes accessible by public bus. Ancient volcanic formations on a giant scale form the breathtaking central area, sliced by ravines and dotted with old hamlets.
Various guide books available.


LANZAROTE for the holidaymaker: - plenty of packages and flights, several main resorts with hotels, apartments, bars, restaurants, entertainment, etc.
For the walker - a surprising range of walks for such an arid island.
Has a distinct personality of neat white and green villages set in stark black volcanic rock, with a softer, damper tip to the north of the island.
FUERTEVENTURA for the holidaymaker: - watersports, watersports, beaches, beaches. Most people choose this island for these reasons only. Plenty of packages/flights/accommodation/nightlife. Considered by many to be a young, singles destination.
For the walker - limited appeal, though some guidebooks cover it. A harsh desert landscape without much variety to ease the eye.

EL HIERRO for the holidaymaker: - a few organised packages exist. Takes a little effort to get there (no direct flights to the UK, transfer from Tenerife) but efforts will be rewarded. Quiet, quaint, quirky, uncommercialised (although excellent cheeses and wines). Good for independent, inquisitive travellers. Hire car/taxi recommended.
For the walker - an unforgettable experience. Lusher than the other islands (most westerly), has rolling landscape of gentle beauty punctuated with some dramatic cliffs and long views. Very few guide books available.


WALKING THE CANARIES A few tips which apply to all the islands: - Go between late September and mid-June; it is very hot in summer. - All the islands are largely undeveloped and unspoilt away from the tourist resorts. - In most cases they represent good value.
Get your guide books/maps before you go so that you arrive with some idea of what to expect and what you want to do and see.
FACTFILE Ros Brawn of Discovery Walking Guides is co-author and co-researcher of most of the "Warm Island" Walking Guide titles, along with David Brawn. We guarantee that if we include a walk in a guide, we've actually done it, usually several times, including false trails, getting lost and a few blisters to prove it. When not visiting England or researching on a warm island somewhere, we are resident in the Canaries, and have good local knowledge of the islands. In addition to our Walking Guides see our "Tour & Trail" 1:40,000 scale map series and "Bus & Touring" Maps. See details of all our publications on http://www.walking.demon.co.uk/index.htm or send C5 SAE for our current Newsletter/Catalogue to:
Discovery Walking Guides Ltd. 10 Tennyson Close Northampton NN5 7HJ