madeira walk walks walking hiking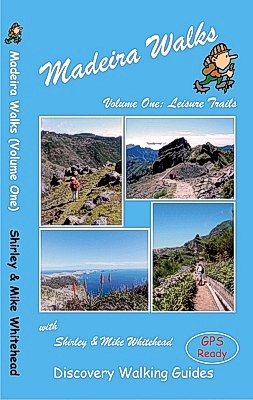 Madeira Walks volume 1 Leisure Trails

isbn 9781782750581 £12.99





160 pages 210mm by 120mm, full colour, 40+ fully detailed walking routes, Tour & Trail maps for all walking trails.GPS waypoints.
Fully detailed Contents listing of Madeira Walks volume 1 Leisure Trails here
See GPX File Downloads for the gps files for this book. Latest Walking/Map Updates Sept 2018

Back in 2005 we met with the Madeira Times walking writer Shirley Whitehead. Visitors to Madeira will know Shirley's enthusiastic style and intimate local knowledge. The first edition of 'Shirley Whitehead's Madeira Walks' was a great success to be followed by an expanded edition and 'Walk! Madeira' to give comprehensive coverage of walking trails across the whole island.
Shirley, with husband Mike, has now comprehensively researched Madeira for her latest 'Madeira Walks' guide books; updating earlier walking routes along with bringing in new routes. Madeira offers such a wealth of walking adventures that Shirley (& Mike) have produced two volumes for her new books - 'Volume 1 Leisure Trails' aimed at 'family friendly' walking routes suitable for all walkers, and 'Volume 2 Challenging Trails & High Altitude Routes' for fit hikers seeking top end adventures.
Combined with our latest Madeira Tour & Trail Map Madeira Walks volumes 1 & 2 give you everything you need to explore the wealth of walking adventures available on the 'Garden Isle'.

Madeira is a wonderful destination for walkers, offering a breathtaking diversity of landscapes; lushly verdant slopes, towering volcanic peaks, dramatic gorges and soaring cliffs surprise and amaze the newcomer. Add the levada network, primeval forests, subtropical flora and the superb landscaped gardens - little wonder that the island is fondly called "The floating garden of the Atlantic".
Shirley Whitehead, Madeira's resident walking expert, has brought together over 40 'Leisure Trails' adventures suitable for a wide range of abilities and age groups.
Madeira Walks volume 1 offers a wealth of choice for every walker and explores the best areas the island has to offer. With Madeira Walks in your pocket, your visit to Madeira becomes an unforgettable adventure.
Each 'Leisure Trail' description includes:-
Route Summary giving overall view of the route and access information; Ratings for Effort, Time, Distance, Ascents/Descents, Refreshments, and Vertigo risk (where applicable), in an easy to see pictorial 'Summary' box;
Fully detailed walk description, including frequent timings to aid navigation and check your progress;
Gps waypoints at every key point on every route (subject to reception);
Full colour 1:40,000 scale mapping for each route taken from the latest edition of Madeira Tour & Trail Map.
Shirley is an expert on Madeira's flora, describing the varied and exotic plant life we encounter on each Leisure Trail.
For gps users we provide free gpx waypoint files for Madeira Walks as a zip file download from our GPXdownloads web page..


With Shirley Whitehead's Madeira Walks and Madeira Tour & Trail Map you will be able to choose which routes are most suitable for your walking adventures.
You can tackle all of these walking adventures with the comfort of knowing that all the walk descriptions have been researched in detail along with GPS surveying of every route.
Amazon Reader Reviews:- for Shirley's earlier books
What a little gem this book is. A good selection of walks, some not seen in other publications, with clear, concise directions and descriptions and good maps. There is extensive detail on local flora and buildings of interest.
I love the Sunflower books but Shirley's is the ideal companion and a 'must have'. I look forward to using it for the first time very soon.
P R D** 27 April 2008
I bought this from amazon.co.uk and used it on a recent holiday to Madeira. We tried out three walks, not covered in any other books we've read and really enjoyed them.
Shirley's directions and descriptions of the walks are great and took us to some places we would not have otherwise discovered. She also goes into interesting detail about the local plant life, history and places of interest. An excellent guide, which we'll be using again on our next trip.
L D S**** 12 May 2008
Fully detailed Contents listing of Madeira Walks volume 1 Leisure Trails here