Fuerteventura Custom Map and Resort Street Plans for Garmins
'Tour & Trail' Custom Maps for Garmins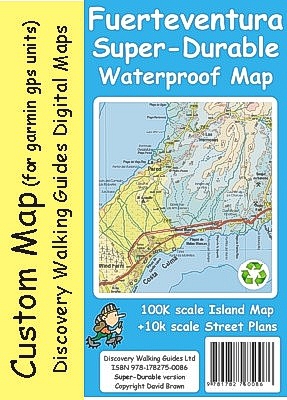 Fuerteventura Custom Map £5.99 is a zip file containing 5 kmz map files totaling 11Mb.

Fuerteventura Custom Map is the digital edition of isbn 9781782750086 Fuerteventura Super-Durable Map for use on Garmin gps units that have Custom Maps capability - Check that your Garmin gps has Custom Maps capability before purchasing.

Fuerteventura Super-Durable Map is the most detailed and toughest map of this exciting canary island that you can buy.

Fuerteventura Custom Map zip file contains a one piece digital map covering the whole island drawn at 100k scale plus Resort Street Plans for Corralejo, Caleta de Fuste, Costa Calma and Morro Jable drawn at 10k scale.

After receiving our download email, do check your Spam folder if you do not see our email from dwgwalking.co.uk in your inbox, click the download connection and download the zip file onto your hard drive. Unzip the file to see the Fuerteventura Island Map and 4 Resort Street Plans as individual kmz files.

The island map and resort street plans can be viewed and used in Garmin Basecamp and Google Earth, and can be loaded into the Custommap memory of your Garmin mapping gps unit or loaded onto a microSD card for use in your Garmin mapping gps.

Read our Tour & Trail Custom Maps 2014 information sheet before purchase. See a 'Try before you Buy' Custom Map sample.
Fuerteventura Custom Map can be used with all walking/hiking guide books for Fuerteventura can be used in Google Earth and Garmin Basecamp for you to plot the detailed routes and save these as gps files which can then be loaded into your Garmin.
Purchase with PayPal. You can get this title for Free click here
After your PayPal purchase and payment is completed you will receive an email with your download link. This happens in seconds.
If you do not see our email from digitaldownloads@dwgwalking.co.uk check your Spam folder.
Please click on the download link in your email to download your Custom Map soon after purchase as the encrypted link is time limited.