Cape Verde maps Sal Boa Vista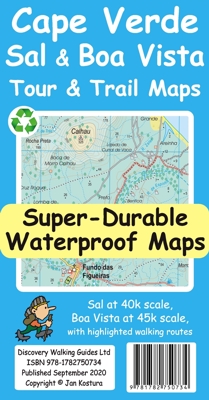 Cape Verde Sal & Boa Vista Tour & Trail Maps ISBN 9781782750734 £10.99 published 20 September 2020
For your best adventures, use the best maps. Digital Editions
Water-proof, split-proof, tear-proof, adventure-proof.
Sal and Boa Vista Tour & Trail Maps are simply the toughest, most accurate, easy to read, easy to use maps of these two islands that you can buy at any price.
A large 840mm by 690mm double sided map sheet has Sal at 1:40,000 scale on the cover side, with Boa Vista at 1:45,000 scale on the reverse.
There are also street plans of Espargos, Santa Maria (Sal) and Sal Rei (Boa Vista) at 1:10,000 scale.
Our special concertina map fold makes our map easy to open and easy to refold to its 230mm by 120mm pocket size.
Our legendary 'Tour & Trail' level of detail ranges from major roads to secondary roads to minor roads to streets and narrow country roads, plus dirt roads, tracks and walking trails.
Altitude shading each 100 metres is designed to clearly show the altitude range when travelling across the island by car or on foot.
20 metre and 100 metre contours combined with altitude shading bring these beautiful landscapes to life.
There are plenty of individual height points and all of the official 'Trig' points are on the maps.
Tour & Trail attention to detail includes our useful symbol range including viewpoints, petrol stations, bar/restaurants and parking areas where you can pull off the road safely.
You will easily identify springs, caves, sports grounds, cemeteries, churches, chapels, lighthouses, corrals, wind turbines, hotels, sand dunes etc.
Published walking routes are highlighted on the maps.
It all adds up to the most detailed and most durable maps of Sal and Boa Vista that you can buy anywhere.
'Super-Durable' means a waterproof, tear-proof, map that can take the roughest treatment and still folds up like new after your adventures.
Super-Durable Maps come with a 2 year adventurous use 'Wear and Tear' guarantee.
Cape Verde Sal & Boa Vista Tour & Trail Maps ISBN 978-1782750567 £10.99




Digital editions of Cape Verde Sal & Boa Vista Tour & Trail Maps are being made available in 2022 for phone apps, Oziexplorer and Garmin users.
supported file formats:- Custom Map kmz, sqlite.db and Oziexplorer


Digital Cape Verde Maps available from